Bagsmith Big Stitch Knitting and Crochet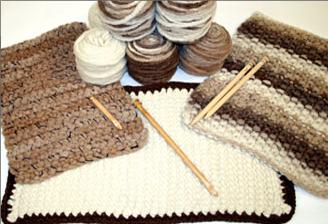 Our large needles and crochet hooks have been specially designed for working with multiple fibers. Great care has been taken to insure that these hand-made tools are of the highest quality.
These oversize needles can be use for anything from shawls, pillows, blankets and even bathroom rugs! They are very cool! You can use any size yarns and there is almost no limit to the number of strands you can use! These are incredible, fun and simply amazing! A fantastic gift for the knitter who has everything! Enjoy!
See also BagSmiths fantastic new Alpaca yarn, giant 40 oz bumps for super fast knitting and crochet!