Debras Garden Crochet Hook Gauges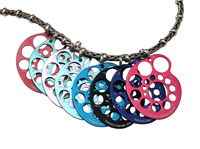 Debras Garden brings us beautiful and wearable knitting and crochet notions! These gauges are lovely when placed on a leather cord or other necklace chain and worn around the neck. They can also be attached to zipper pull for a notions bag or used as a key chain. They also make a great gift!
These gauges are available for crochet hook sizing and the knitting needle gauges are available in either metric or US sizing.
Each gauge is available in a variety of colors.
Displaying 1 to 1 (of 1 products)
Result Pages: 1
Displaying 1 to 1 (of 1 products)
Result Pages: 1