priced from $10.00
Swarovski Crystal Rhinestones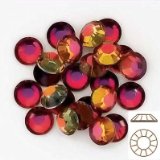 Super sparkly Swarovski Crystal Rhinestone for embellishment. These rhinestones must be glued to your project. Each packet contains 1 gross or 144 Swarovski Crystal Rhinestones.
Add sparkling accents with top-of-the-line Swarovski flat back crystal rhinestones. Incredibly versatile for jewelry making and crafting, these are foil-backed for brilliant shine and reflection.
Easy to use, simply use 2-part epoxy or Jewel Bondô to adhere these to metal, glass, fabric, wood, plastic or whatever else you can dream of! Swarovski crystal components are made in Austria and are considered the finest products of their kind in the world.