priced from $2.99
JP Coats Size 10 Kni-Cro-Sheen Crochet Cotton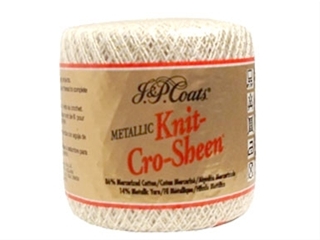 JP Coats Knit-Cro-Sheen
100% Mercerized Cotton Ideal for crochet projects.
Knit-Cro-Sheen Bedspread Weight 4 Ply
Signature quality in the sizes and colors you need for crochet lace to fashion accessories!
White, Ecru, Cream: 225 yds (205.7 m)
Colors: 150yds. (137.2 m) 27/Colors - 6/Metallic Colors
Machine wash, lay flat to dry.
Displaying 1 to 5 (of 5 products)
Result Pages: 1
Displaying 1 to 5 (of 5 products)
Result Pages: 1