Heartstrings Fiber Arts Patterns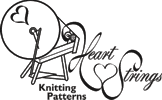 Jackie Erickson-Schweitzer (Jackie E-S) is a long-time knitting enthusiast who shares her love of knitting and experience through guild groups, classes, and networking with other fiber artists. In her past "real life" she was an information technology consultant.
Feel confident in knitting your own heartfelt creations with HeartStrings' clear, comprehensive instructions. Each pattern includes skill-building techniques because learning new things makes knitting even more fun!
As a long-time knitter and needlearts enthusiast, I established HeartStrings to bring quality instruction to knitters who want their items to be special, as well as practical and fun to knit.
I am pleased to bring you clearly-written, complete patterns that are a joy to knit into your own heart-felt creations. Please be my guest, be inspired, and enjoy. I am here to assist you in any way I can.