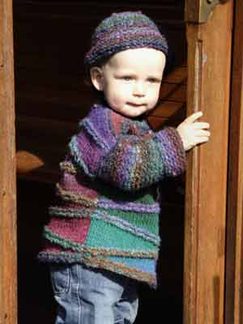 What is Kureyon (and how do you pronounce it?) It's 100% wool. It felts. It drapes. It is dyed in spectular colors. It knits to 5 sts per inch - Worsted/Aran weight. It makes bags, sweaters, clogs, shawls, hats, mittens, and socks; you name the project and it will make it that much prettier than your expectations. Twenty-six wonderful striping colors are available in this wonderful line of 100% wool.
Who uses it? Knitters, crocheters, felters, weavers and all fiber lovers.
Oh, and about that pronounciation, any way you please... we have heard it referred to as Cure-E-Yon and as Crayon. It seems as though Kureyon translated to English is Crayon. So from our rep, knitting associates, and others whom we have asked, it can be pronounced either way and still be right.
Content:
100% Wool
Care:
Hand Wash Cool, Dry Flat
Yardage:
109 yards (100 m) / ~1.75 ozs (50g)
Gauge:
18 - 20 sts = 4 inches (10 cm)
Recommended
Needle:
US 7 - 8 (4.5 - 5 mm)