Interweave Fiber Arts Sept/Oct 2006
$6.30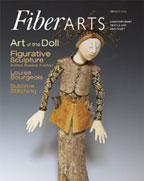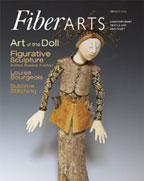 Fiberarts, the world's leading textile-art magazine, features:
The best and most interesting work in weaving, surface design, quilting, needlework, basketry, fiber sculpture, knitting, papermaking, wearable art, and more.
Artist interviews, stunning portfolios, new techniques, useful news and reviews, and current exhibition listings and competitions.
Features
LOUISE BOURGEOIS: STITCHING SALVATION by Rhonda Sonnenberg
The renowned artist has been creating in many media for seven decades. Her fabric works, stitched from her own clothes, are among her most stirring.
THE UNIVERSAL PORTRAITURE OF SCOTT ELLEGOOD by D Wood
From buttonhole stitches emerge haunting faces.
THE ART OF THE DOLL by Leslie Clark
These textile-based figures make their homes not in toy chests but in galleries and art collections. Makers Georgette Benisty, Akira Blount, Reina Mia Brill, Kyoko Okubo, Adam Parker Smith, and Alice Watterson describe why and how they create.
POP ART by Morgan K. Harris
Using iconic images, the work of Jenny Hart and Whitney Lee taps into craft's recent resurgence in popular culture.
HANNAH GREENAWAY'S KNITTED BUSTS by Jessica Hemmings
Heat-treated plastic gives form to intriguing portraits.

We accept, checks, purchase orders and all major credit cards
Low Prices and Worldwide Free or Discounted Shipping