Interweave Fiber Arts November-December 2006
$6.30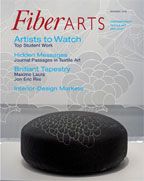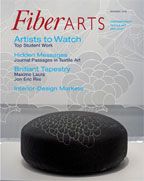 Fiberarts, the world's leading textile-art magazine, features:
The best and most interesting work in weaving, surface design, quilting, needlework, basketry, fiber sculpture, knitting, papermaking, wearable art, and more.
Artist interviews, stunning portfolios, new techniques, useful news and reviews, and current exhibition listings and competitions.
Features
ARTISTS TO WATCH A sampling of innovative student work.
THE ABSTRACT JOURNALS OF ANGELA MOLL AND SI-YUN CHANG by Katherine Aimone The interior realms of these two artists are printed and woven into their textile works.
JON ERIC RIIS'S TAPESTRY COATS by Sunita Patterson The interiors of these conceptual coats are as intriguing as the exteriors.
THE CREATIVE SPACE OF DANNY MANSMITH by Elizabeth Rich This Chicago artist uses his studio like a 3-D sketchbook. Come on in and check it out.
ORLEY & SHABAHANG'S WOVEN POEMS by Rhonda Sonnenberg Artisan-made rugs and baskets from the heart, for the soul.
CROSSING BOUNDARIES: MAXIMO LAURA by D Wood Complex tapestries intertwine Peruvian tradition and a contemporary aesthetic.
INSIDE TWO INTERIOR-DESIGN MARKETS by Leesa Hubbell Highlights from two New York shows—SURTEX and the International Contemporary Furniture Fair—where designers connect with broader markets for interiors and related products.
Departments
News and Notes
MAD Marks Fifty Years | Student Awards | In Memoriam: Hilary Morrow Fletcher | Chairs in Felt | Windgate Charitable Foundation | Jacqueline Govin: Textile-Art Advocate | and other tidbits from the fiber world
Previews Material Difference | Weavings of War | Noel Dyrenforth | Surface Design Conference
Collecting Fern Grauer
Profiles Emily K. Robertson | Leslie Kneisel
Creative Process Lynn Cornelius Jablonski: Post MFA
Reviews Eva Hesse | Sheila Hicks | Jeanne Williamson and Katherine Porter
Travel & Traditions Saki-ori | Saskatchewan Textiles | Minneapolis Institute of Arts | Girard Collection in Santa Fe

We accept, checks, purchase orders and all major credit cards
Low Prices and Worldwide Free or Discounted Shipping