Heartstrings #A16 All-Over Lace Faroese Shawl Pattern
$5.00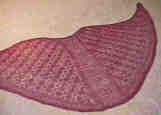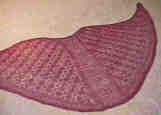 Pattern #A16. Just one of the many popular HeartStrings Faroese shaped shawls, this time in an allover stockinette stitch lace version. The pattern begins with the center back neckband, then proceeds from the neck down in charming lace silhouetted heart motifs.
8oz of 2-ply shetland yarn at approximately 150 yards per oz for a blocked size of 32 x 48 inches.
Size US #8 circular needle in 24-28 inch length.

We accept, checks, purchase orders and all major credit cards
Low Prices and Worldwide Free or Discounted Shipping