Fiber Trends Lily Chin Collection A Set of Wedding Accessories Knitting Pattern 108LC
$4.95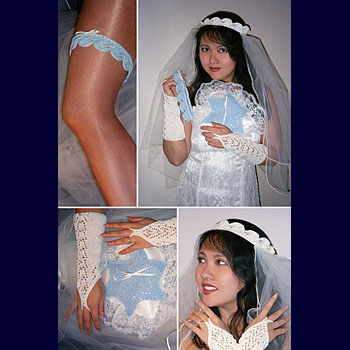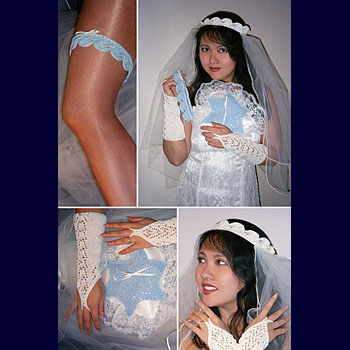 Designed by Lily Chin.
Make one or make them all. These fun pieces are relatively simple and quick, yet can serve as heirlooms when gussied up with applied beading.
Size: Garter and headpieces can be made to any size. Gloves (S, M, L)
Yarn Requirements: Size 10 mercerized cotton thread. Garter 65 yards. Headpiece 75 yards for 22 inch headpiece. Gloves 275 (300, 325) yards. Pillow top 75 (170) yards.
Needles: Size 1 (2.25 mm) for garter or headpiece. Size 3 (3.25 mm) for double strand headpiece or pillow toip. Size 5 (3.75 mm) for gloves and double strand pillow top.

We accept, checks, purchase orders and all major credit cards
Low Prices and Worldwide Free or Discounted Shipping