Elsebeth Lavold Designers Choice Book Three The Embraceable You
$18.00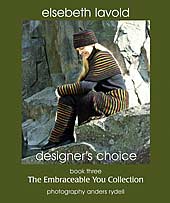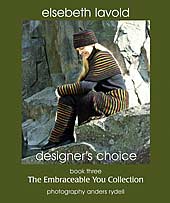 The Embraceable You Collection is inspired by details in armor and protective clothing from various times, in the past as well as in the future (in addition to her historic interest, Elsebeth Lavold is a Science Fiction buff).
This in no way indicates an aggressive collection. Quite the contrary: All but one of the designs are made in the incredibly soft and pleasing Angora yarn, creating garments that enthuses you to curl up in the corner of a soft sofa, embedded in a warm sweater. Hence the title of the book: The armor theme is disarmed.
The yarn, from the Elsebeth Lavold Designers Choice label, is introduced in this book, which also contains one design in Silky Wool.
Lavold is known for her spectacular study of Viking design and transposing them into fabric through the use of cables and other design features. She is a leading authority on cable patterns and a skilled and creative designer of beautiful knitwear as well as world famous for her Viking Knits Project.
Yarn has been ordered for pattern support.... please email us if you have a particular color you would like to have special ordered.