Elsebeth Lavold Designers Choice Book Ten
$18.00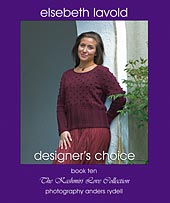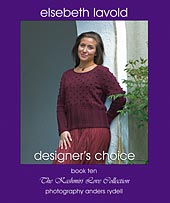 Elsebeth Lavold has filled the tenth book in the Designers Choice series, The Kashmiri Love Collection, with a splendid and inspired collection of designs for men, women, children, and infants, inspired by the fashion and architecture of Victorian and Edwardian times at the turn of the last century.
The book got its name from the Silky Cashmere yarn that is used in half of the collections designs - a luxurious mixture of silk and cashmere, with a lovely sheen and softness, and excellent knitting properties.
Other yarns used are Angora, ChunkyAl, Silky Tweed and Silky Wool, offering a wide range of styles from elegant party outfits to casual, comfortable and warm garments.
In the introduction to the book, Elsebeth reveals her own favorites.
Lavold is known for her spectacular study of Viking design and transposing them into fabric through the use of cables and other design features. She is a leading authority on cable patterns and a skilled and creative designer of beautiful knitwear as well as world famous for her Viking Knits Project.
Yarn has been ordered for pattern support.... please email us if you have a particular color you would like to have special ordered.

We accept, checks, purchase orders and all major credit cards
Low Prices and Worldwide Free or Discounted Shipping