Elsebeth Lavold Designers Choice Book Nine
$18.00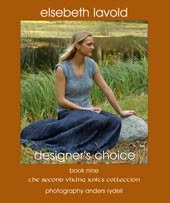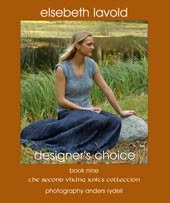 Viking Knits are back! Three years after the first Viking Knits Collection, Elsebeth Lavold returns with another collection of designs inspired by the intricate ornamentation of Viking Age artifacts. This time she had nine different yarns with her name on them to choose from, and six of them are used in the collection. This allows for a wide range of beautiful designs, from the cool, elegant shell Ylva on the front cover, a design for which any one of the yarns Silky Wool, Silky Tweed or Hempathy can be used, to the cozy swagger Hjördis in the warm and luxurious Alpaca blend ClassicAl.
All of the designs in The Second Viking Knits Collection are shown here - a treasure for lovers of Elsebeth Lavold designs and Viking Knits.
Lavold is known for her spectacular study of Viking design and transposing them into fabric through the use of cables and other design features. She is a leading authority on cable patterns and a skilled and creative designer of beautiful knitwear as well as world famous for her Viking Knits Project.
Yarn has been ordered for pattern support.... please email us if you have a particular color you would like to have special ordered.