Knitters Magazine Spring 2008
$5.95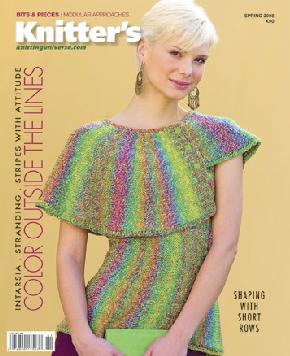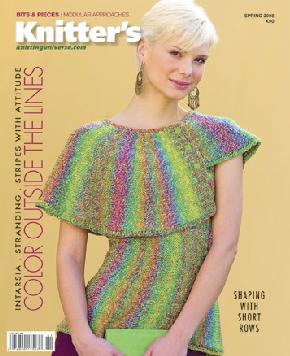 Who doesn't love color? It's an important part of getting dressed each morning. The perfect color can add a spark of sophistication to an outfit. High contrast can add drama or excitement. We make conscious decisions in what we wear and knit. The result can get you noticed. No matter your knitting style, we have you covered.
Get in shape with short rows.
You will find Shimmer & shine, our cover set, to be a full-blown exercise on building a shapely garment with short rows and increases and decreases. The long repeats in the variegated yarn work into wedges and vertical stripes that radiate outward in a rainbow of colors.
Give modules a try.
Our men's offerings are built with squares and rectangles in multicolored yarns. Work half-linen stitch in two variegated colors, for 4-to-1 squares. The blocks are arranged in a quilt-like pattern with the colored stripes traveling horizontally in some blocks and vertically in others. Zigzag Bricks arranges the rectangles into a pattern resembling patio pavers. The stacking yarns offer a smooth transition of color within the rectangles.
Start simply with knits and purls.
Look at Glistening grapes. This simple stockinette duo uses the thread-like metallic as a single-yarn stripe in the tank and as a carry-along in the bolero, creating companion fabrics that shine. Solid-color ribbon yarns are worked into a reverse stockinette shell with clever shoulder detail. Jet streams capitalizes with an undulating dark-to-light repeat sequence and varied stripe widths. Garden rows is lady-like and serene with floral colors in lacy, single-, and double-row stripes and picot trims. Sedimentary reds is a more straightforward approach. Eight rows of a variegated yarn are matched with 2 rows of garter with bobble accents in a second color. Crisp seed stitch trims it all for a no-nonsense approach.
Come over and take a dip.
Collect a monochromatic palette of greens and work Sea grass, a layered-look shell with alternating ridged stripes that create soft vertical columns as well as texture across the rows. The clever lower portion of the sweater makes great use of elongated stitches.
Orbits and crescents of lime, turquoise, and purple peek from under the tucks of the bold orange racer-back tank. The fine shoestring ribbon, worked at a loosened gauge, is perfect for a fluid illusion fabric. Double strands create opaque bands.
Five stitches of one color are worked together and immediately increased back with another color in the crown stitch. When placed into a striped garter based fabric you get clusters and ripples. The Royal cadet works it in a 5-color pattern. It would also be effective in fewer colors or as a solid.
Simple stripes evolve into a decorative stripe sweater for the 8-12 year-old set. A dipstitch manipulation turns the background colored stripes into three-dimensional dots of color that peek 'Tween lines. Work a solid with its variegated counterpart, or a worsted weight with a sport, all into a slip-stitch pattern. Elongate the slip stitches and pass them in pairs. The slipped yarn will stand out in relief and form a grid. The chamois-colored Sand bars is elegant with a subtle grid made of two weights of yarn; Sculpted trellis, the trapeze top, becomes more playful with a multicolor and solid yarn combination.
Let's play!
The bold Fractured tulip and Kiwi blocks tunics are an invitation to play. Their asymmetric patterns and fun colors should be enough to get every knitter to try intarsia—at least once.
Coloring outside the lines is fun. All these great techniques guarantee unique and special knit options for almost any member of your family.

We accept, checks, purchase orders and all major credit cards
Low Prices and Worldwide Free or Discounted Shipping