Interweave Beadwork Feb/March 2007
$5.40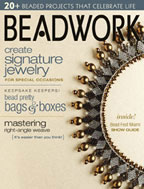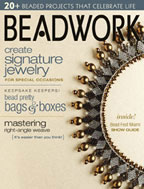 Beadwork is the #1 resource for projects, technique tips, resources, and much more. Don't miss out on great how-to projects and inspirational artist profiles.
Features
Larger than Life—Small Beads Tell Powerful Stories An Interview with Bead Artist Deborah Loop by Marlene Blessing
In the Shadow of Vesuvius: Exploring Antiquity with Maggie Meister by Cheryl Cobern-Browne Michael Barley: Pushing the Limits in Glass Expression by Lisa Kan Bead International 2006: A Kaleidoscope of Beads
Projects
Sleeping Beauty's Trellis by Tina Koyama - Pressed-glass leaves and flowers meander along a bracelet of right-angle weave
Words from the Heart by Jessica Stephens - Silver word charms embellish bead-embroidered heart pins
Honeycombed Cube by Jean Power - Fun beaded beads worked in right-angle weave and peyote stitch
Once Upon a Prom by Katie Hacker - A special-occasion bracelet of deep blue crystals strung on gold wire
The Owl and the Pussycat by Diane Hawkey - A whimsical necklace that pays homage to the poem of the same name
Pyramids Along the Nile by Pat Mayer - A peyote-stitched necklace inspired by King Tut–era jewelry
Braided Circlets by Jeanette Shaniga - Circular netting gives this textured bracelet curve appeal
Rolling Stones by Teri Bienvenue - A rich eight-strand necklace strung with miscellaneous stones and beads
Retro Rosette Brooch by Katherine Robinson - A bead-embroidered brooch excerpted from the newly released Beader's Stash book
Royal Peacock Collar by Maggie Meister - A ladder- and brick-stitched collar with a peacock feather motif
Crystal Suspense by Gwen Fisher and Florence Turnour - A bangle of crystals trapped in shimmering seed-bead netting
Venetian Romance by Patti Burlingame and Emily Carlson - A delicate wireworked necklace with shimmering Murano foil beads
Bead Noir by Julie Walker - A peyote-stitched and right-angle-woven bracelet that will dazzle even in shadows
Flower of Bollywood by Jean Yates - Byzantine chain necklace featuring an extraordinary lampworked focal bead - Free matching earring pattern on the Interweave website!
Drama Queen Cuff by Janet Kay Skeen - A bold bead-embroidered cuff that begs to be shown off

We accept, checks, purchase orders and all major credit cards
Low Prices and Worldwide Free or Discounted Shipping