$8.00
Penny Straker Designs Patterns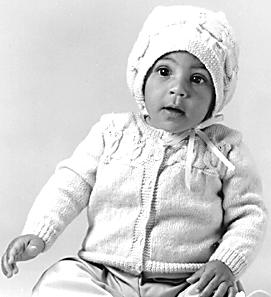 Penny Straker Patterns are the benchmark of hand knitting patterns. Knitter-friendly, with clean graphics, including illustrations of techniques, they are written in a straightforward style. They take the knitter one step at a time through each section of a garment and are complete and accurate.
They are the original generic patterns, written for weights of yarn, not specific brand names. With a Penny Straker pattern any appropriate yarn that tests to required gauge can be used in the project.
A prototype is knit from an idea and a rough sketch. The math is calculated for the size range of the design and then rough drafts are written, proofread and re-written. Other sizes are then test knit to check the fit and tailoring of each size and the wording of the directions. Only then is the final draft ready to be published.
Knitters have come to trust in our patterns because of the extra time and care given to each design.
In addition our patterns go several steps further:
• Patterns are suitable for beginner, intermediate and advanced knitting levels.
• Designs for six yarn weights: fingering, sport, DK (heavy sport), worsted, light bulky and bulky.
• Yarn Notes on the grey flap educate the knitter in the varieties of texture, spinning methods and yarn types commonly found in a yarn weight.
• A step-by-step eight-inch swatch, also on the grey flap, familiarizes the knitter with the pattern stitch and determines if required gauge is met.
• P.S. Pointers – little knitting lessons and tips for knitters of all levels.
• The back cover has helpful information regarding how to measure and determine sizing.
• A Yarn Chart listing yarn weights, and their corresponding range of yardages, optimum needle sizes and gauges in Stockinette Stitch.
Our pattern sizing is based on traditional American tailors' sizing. Every size from baby to adult is determined by the fullest part of the chest. A size 40 sweater measures, after assembly, 40" around. This measurement is taken with a tape measure placed just below the underarms, around the back and across the fullest part of the chest or bust.
The directions present average lengths for torso and sleeve. The knitter is encouraged within the text to adjust the measurements to suit their personal sleeve and body lengths, and when appropriate to the design, their personal style.
Displaying 1 to 10 (of 10 products)
Result Pages: 1
Displaying 1 to 10 (of 10 products)
Result Pages: 1