Interweave Fiber Arts Sep/Oct 2008
$6.99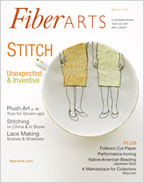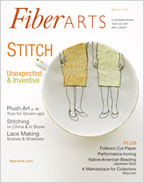 Features
HAND TO MOUTH by Suzanne Beal
Diem Chau serves up memory and mystery in her embroidered dishware.
CRAMMED ORGANISMS by David Wolk and Marci Rae McDade
This summer an invasion of adorable plush-art creatures swept through the Midwest and stole the heart of Saint Louis.
MECHANICAL DRAWING: THE SCHIFFLI PROJECT by Dr. Jessica Hemmings
An industrial-era embroidery machine in Manchester, England, has challenged a group of artists to reconsider how the hand of the maker can interact with technology.
LEGACY & LACE by Akiko Kotani and Bernard Freydberg
Dorie Millerson creates shadowy narratives with the historical technique of needlepoint lace.
STITCHES IN STONE by Jacqueline Ruyak
The mountains near his home provide Clyde Olliver with solitude and slate—a favorite surface for his rugged embellishments.

We accept, checks, purchase orders and all major credit cards
Low Prices and Worldwide Free or Discounted Shipping