Debras Garden Crochet Hook Gauge Pendant - Colorway Black
$16.00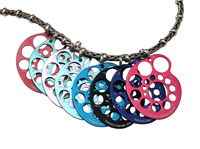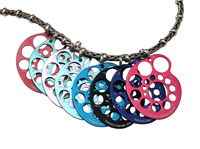 Awesome! Practically as well as beautiful! These gauges are lovely when placed on a leather cord or other necklace chain and worn around the neck. They can also be attached to zipper pull for a notions bag or used as a key chain. A great gift idea!
Each gauge is 1 1/2 inch x 1 1/4 inches and is light weight. Each gauge has its number system lasered into the the gauge which means, the numbers will never wear off!
Each metric sized gauge goes from 2 mm to a P (12 mm) for crochet hook sizing.
Each gauge colorway sold separately.


We accept PayPal, checks, purchase orders and all major credit cards
Low Prices and Worldwide Free or Discounted Shipping